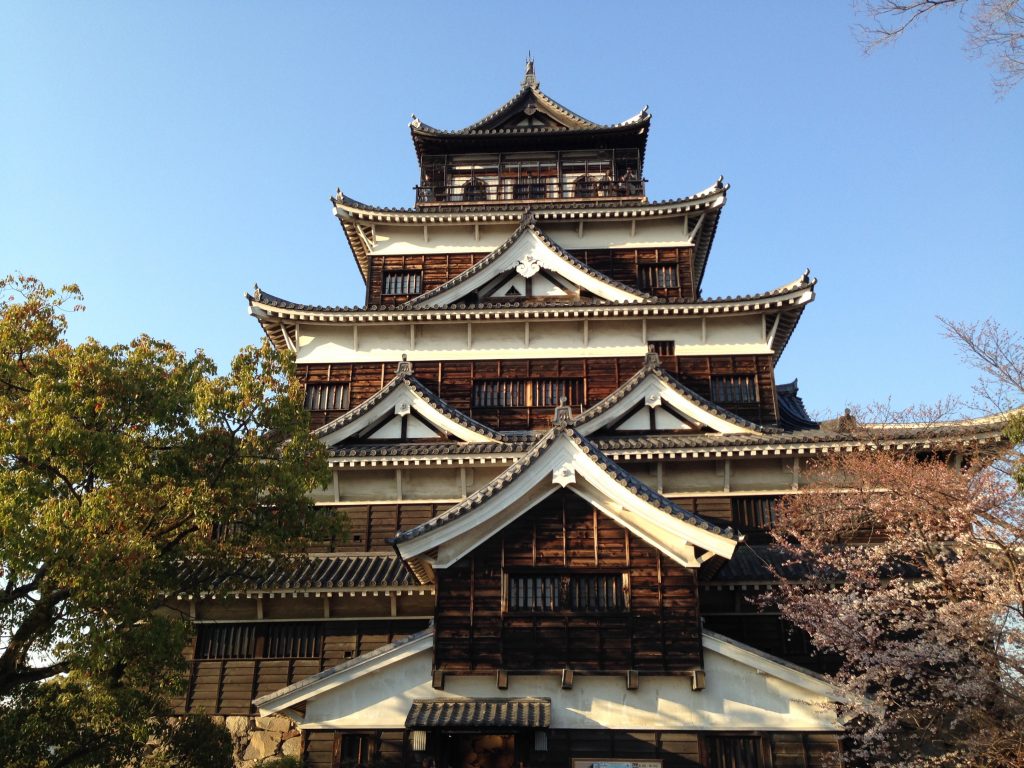 Let me start off by saying Japan is NOT expensive.
Recently, Matt and I made the journey over to the picturesque country. Before our trip even began we heard from countless people how darn expensive it was. This worried us as we were planning to backpack throughout Japan for six weeks on somewhat of a small budget. I should have known that there are always exceptions to every rule. I didn't find Japan expensive at all, especially when compared to Europe, China, USA or Canada. If you are comparing Japan's travel costs to countries in Southeast Asia, then yes, it is more expensive than those. Otherwise, I found it cheaper than a lot of other countries I've visited.
I would say on average the two of us combined spent around the $100 CAD mark about 8500¥ per day. This included: accommodation, daily coffee, all food, sightseeing and transportation.
Yes, all that for about $50 a person per day! Given Japan's 'pricey' reputation, I would say that's not expensive at all. Of course how you spend your time and money is up to you, but here are a few budget saving tips that saved us loads of $$$ or in this case ¥¥¥.
Forget the Japan Rail Pass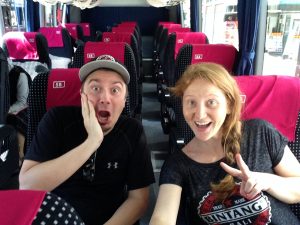 Is the JR pass worth it? In my opinion, no.
If you judged Japan based on the rates of the Japan Rail pass, also known as the JR pass, of course you would think Japan is expensive. This rail pass is valid for high-speed bullet train travel throughout all of Japan. Many websites claim the pass is very cost-effective. This is only true, if you will solely be travelling via high-speed bullet trains. These types of trains are convenient, but come at such a high cost, I don't feel it's worth it. Instead, ride regional trains or buses. Yes, it will make the journey longer, but depending on how far you are going we might be talking the difference of 30 minutes to 2 hours.
The the JR rail pass is valid for consecutive days. That means days where you are sightseeing and not using the bullet trains you are technically 'losing' a day's worth of travel. I find that this puts pressure on travellers to get 'good use' of their pass and you may find yourself hopping around on trains more than you are sightseeing. What a drag!
For a 3-week pass (21 days) it would cost us $670 CAD each. That's a heck of a lot more compared to what we actually spent over 21 days on transportation. We each would have needed to order 2 of the passes since we were there for 42 days. That's a total of $1340 CAD each for 6 weeks of train travel…Ouch!
If you still don't believe that there are significant savings and not much extra travel time using local trains or buses – here is a breakdown of our transportation costs. (If I've sold you on the idea, just scroll to the next budget saving tip!)
There are also some regional passes which we took advantage of. For example the SunQ Pass  which offered unlimited highway and local bus services (and a ferry route) in the Kyushu prefecture. For 3 days it cost 6000¥ if bought online. If you don't purchase the pass online it will cost 8000¥.
2000¥ – Ishigaki 5 day bus pass. Good deal as prices are high for single routes. *Note that the buses are infrequent and have limited service of this island.
2300¥ – Fukuoka airport- Nagasaki station highway bus 2h20m
120¥ – Nagasaki one-way streetcar fare or 500¥ day pass.
460¥ –  Nagasaki station – Isahaya regional train 30m
1510¥ – Isahaya – Shimibara Geiko station Regional train 1h10m
760¥ – Shimibara – Kumamoto Ferry 1h  *Includes a free shuttle bus to Kumamoto station 20m
170¥ –  Kumamoto one-way tram ticket
SUNQ PASS – Kumamoto – Oita highway bus 4h 20m *This route was the only one that seemed to take forever. The bus made many stops and two 20 minute pit stops. I believe there is a faster bus, but we unfortunately did not book it.  
SUNQ PASS –Oita – Fukuoka 2h40m
230¥ – Fukuoka city bus for. Also covered by SunQ.
4300¥ – Fukuoka-Hiroshima bus 4h30m
840¥ – Hiroshima streetcar and ferry 1 day pass
2350¥ – Hiroshima – Fukuyama bus 1h45m
760¥ – Fukuyama – Kurashiki local train 42mins.
2590¥ – Kurashiki – Kobe local train 2h49m (2 transfers)
540¥ – Kobe – Osaka express local train/ subway
1120¥ – Osaka – Nara round trip  local train 35-40 mins
630¥ – Osaka – Kyoto local and express trains (3 transfers to our closest station to Airbnb. To Kyoto station might be less transfers) approx 1 hour long including transfer time.
2550¥ – Kyoto – Nagoya JR highway bus 2h40m
3000¥ – Nagoya – Matsumoto express bus  3h30m
1140¥ – Matsumoto – Nagano local train 1h 20m
3200¥ – Nagano to Tokyo (Shinjuku station) express bus 3h30m
1500¥ – 72 hour Tokyo subway pass 1500Y (Only valid for tourists. Bring your passport)
3500¥ – Tokyo to Lake Kawaguchi Roundtrip Highway Bus 1h45m
To tally that up, our transportation costs for 42 days in Japan cost 41,570¥ or $480 CAD each. This price included: subway, streetcar and ferry costs – fares the JR rail pass does not cover.
Purchasing bus or train tickets was easy and convenient from any bus or train terminal. I would suggest purchasing bus tickets at least one day in advance, especially on popular routes to guarantee a seat. Normally, once Matt and arrived at our new destination the bus would stop the bus terminal or train station. From there we headed to the purchasing office and bought our departing ticket.
If you still think a JR pass is worth the cost, go for it!
Eat at restaurants where all items are the same price!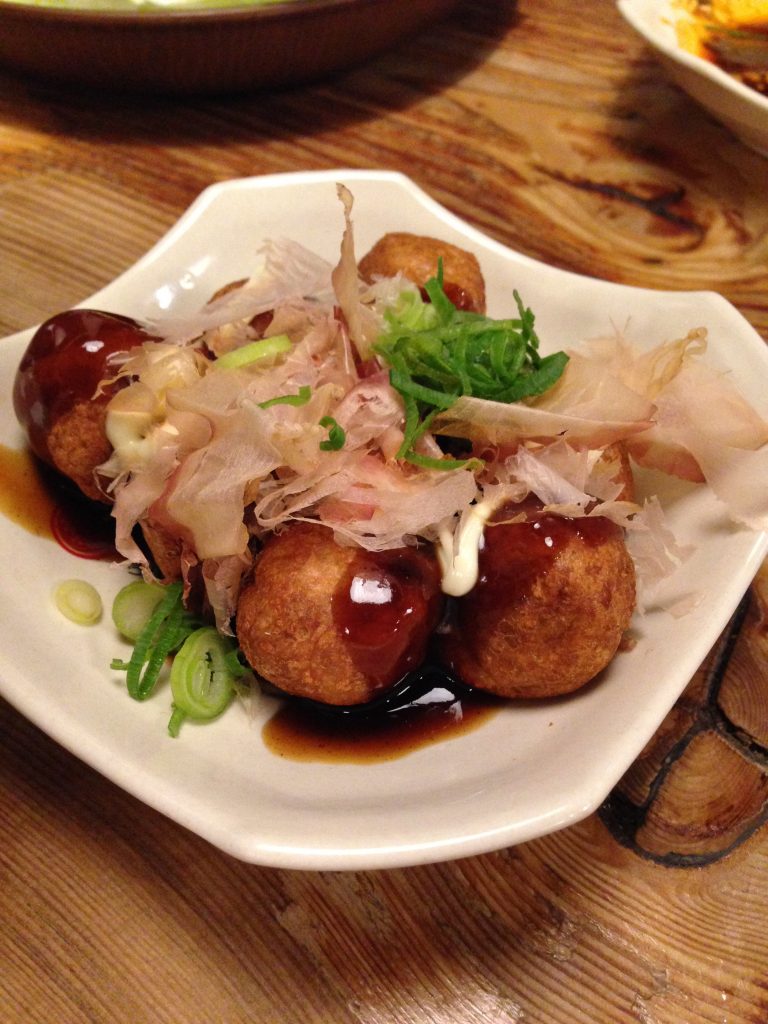 This is somewhat hard for me to explain in a title. I'm not referring to the all you can eat and drink set menus. Instead I'm describing  restaurants, mainly yakitori restaurants that have one price food and drink items. For instance, my favourite meal out was at Torikizoku – a yakitori restaurant where all dishes AND drinks were 280¥ each. This chain seems to only be in larger cities such as Osaka, Kyoto and Tokyo. Trust me, if there was a Torikizoku in the city, we were there. Here's a cool video from another quirky pair that demonstrates exactly what the experience would be like.
*We found only a handful of similar styled restaurants in other cities, but Torikizoku is the most popular and has many locations.
Grab a coffee at Japan's equivalent of 7/11.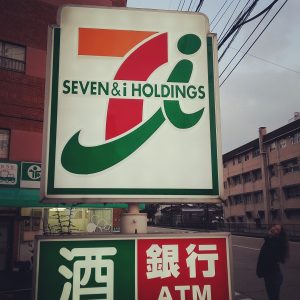 At 7 & i Holdings (yes it takes some time getting used to that name) you can get a decent cup of coffee for 100¥. Other variety stores have similarly priced grab and go coffees however, we both found 7 & i Holdings to be the best. They have iced coffees and lattes too!
Walk and Take in the Sights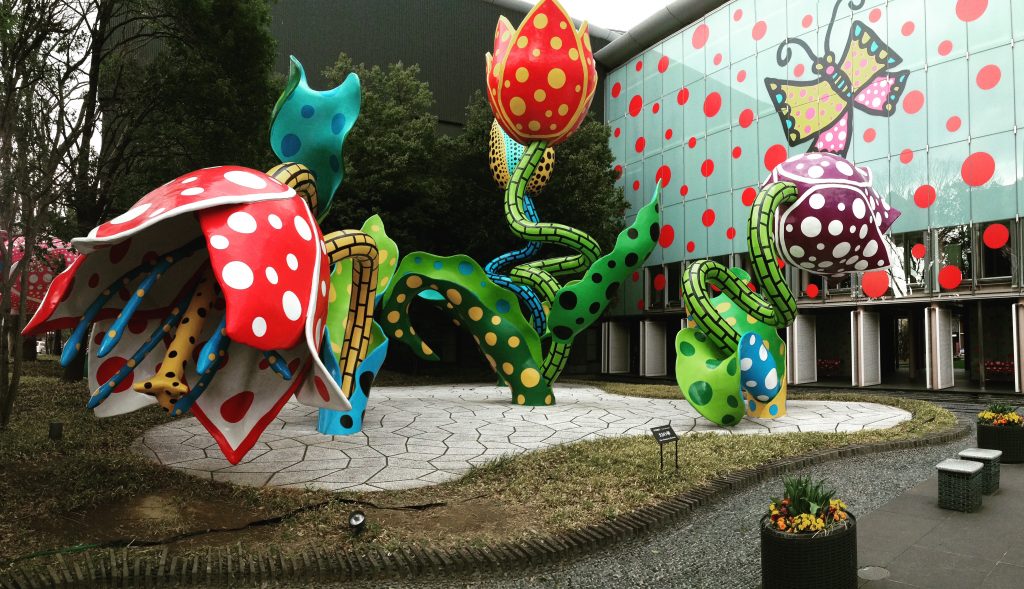 There is so much to see and do in Japan for free or very little money its crazy. Some of the more popular tourists attractions such as, temples, gardens and interiors of castles will cost money. Normally admission prices aren't too steep and the quality of the attraction is very high. If you're wanting to skip the admission fees altogether walk around and you will stumble upon hidden gems where there are few tourists and definitely no admission fees! That said, A LOT of popular temples, castle grounds, gardens, parks are free. So get out and explore!
Here a just a few of the free sights we saw while in Japan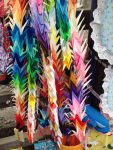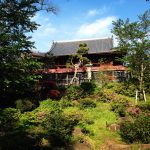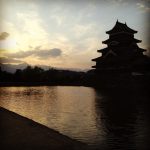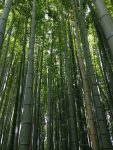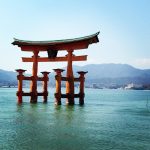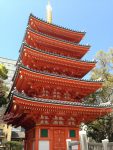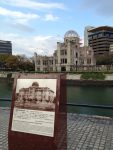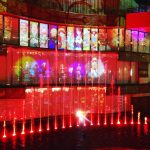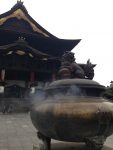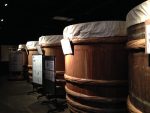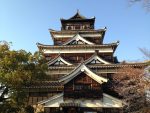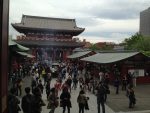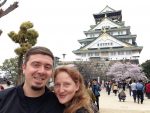 Grab Some Prepared Food from the Grocery Store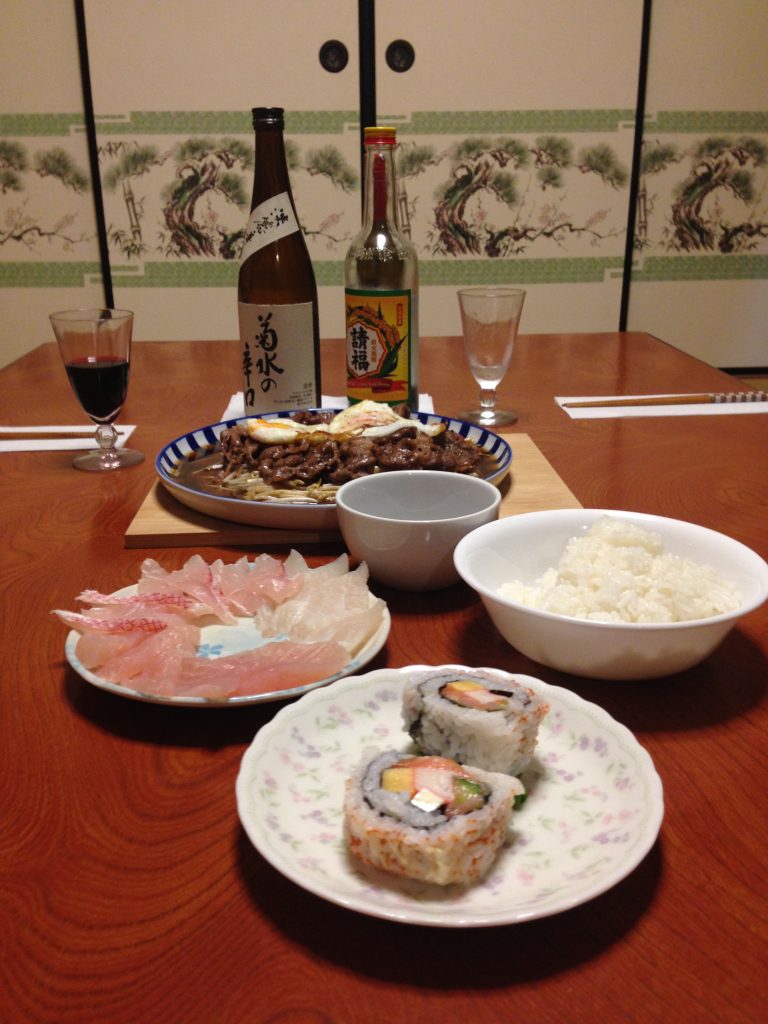 You'll notice a lot of the budget saving tips are food related. Let's face it, food costs eat up a good chunk of any travel budget, especially if you're eating out for most meals. Thankfully, the grocery stores in Japan have a variety of tasty and freshly prepared foods on offer. Here you can purchase everything from fried chicken to sashimi. It's not as exciting as eating in a restaurant, but it definitely has amazing value and saves you money!
*Tip: All food is prepared fresh, daily. Visit just after dinner time as food prices are reduced for fast consumption.
Book Accommodations a Few Months in Advance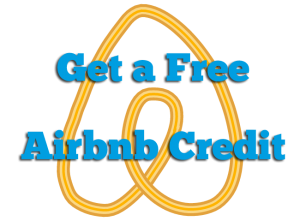 The inexpensive hotels or Airbnb listings will be the first to go. Try to avoid last-minute stays and book in advance to nab up the deals. For most of our trip we stayed in private Airbnbs where there weren't extra charges for extra people. In smaller towns, we found cheap hotels using hotel search engines such as TripAdvisor. Believe it or not, in Tokyo multiple Airbnb listings were cheaper for the two of us than hostels! Our average nightly cost while in Japan was around $45-$50 CAD per night for two people.
Ask about Otōshi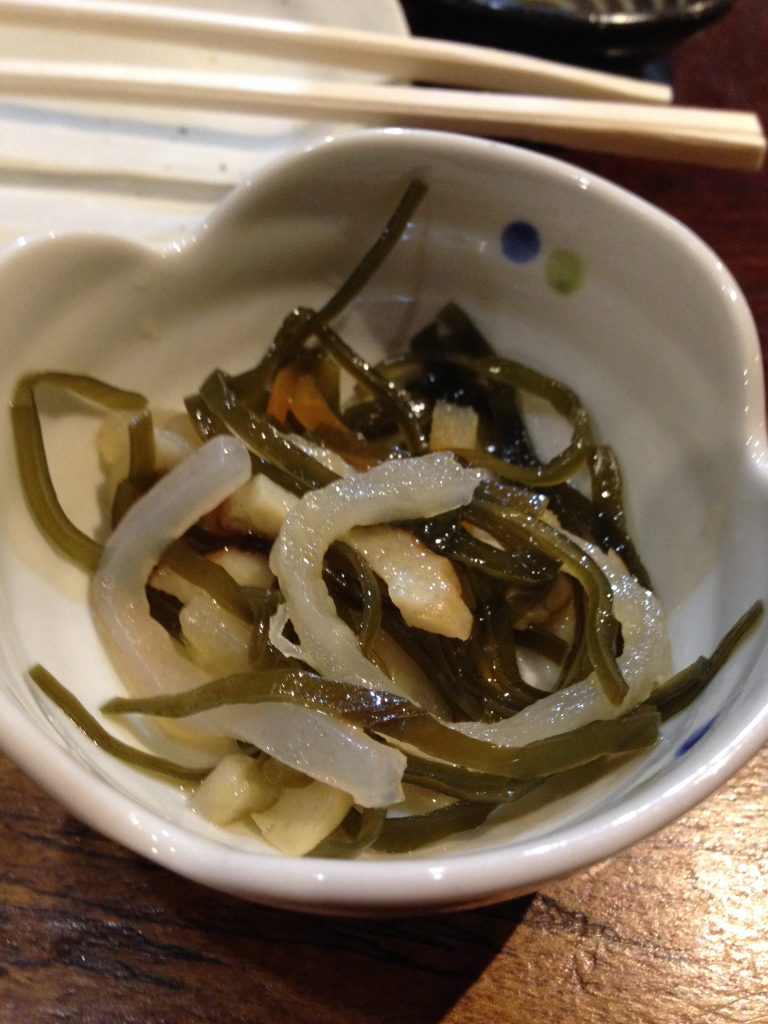 It is very common in Japan that some restaurants will tack on a seating charge, knows as Otōshi (Oh-Toe-Shee) in Japanese. This means that even if you order one drink or one food item you will have to pay the designated charge. There is history behind this fee and normally a small appetizer will be served before your meal. There are no signs or information about this fee on menus, so if you want to inquire about the Otōshi, ask before being seated.
Eat Ramen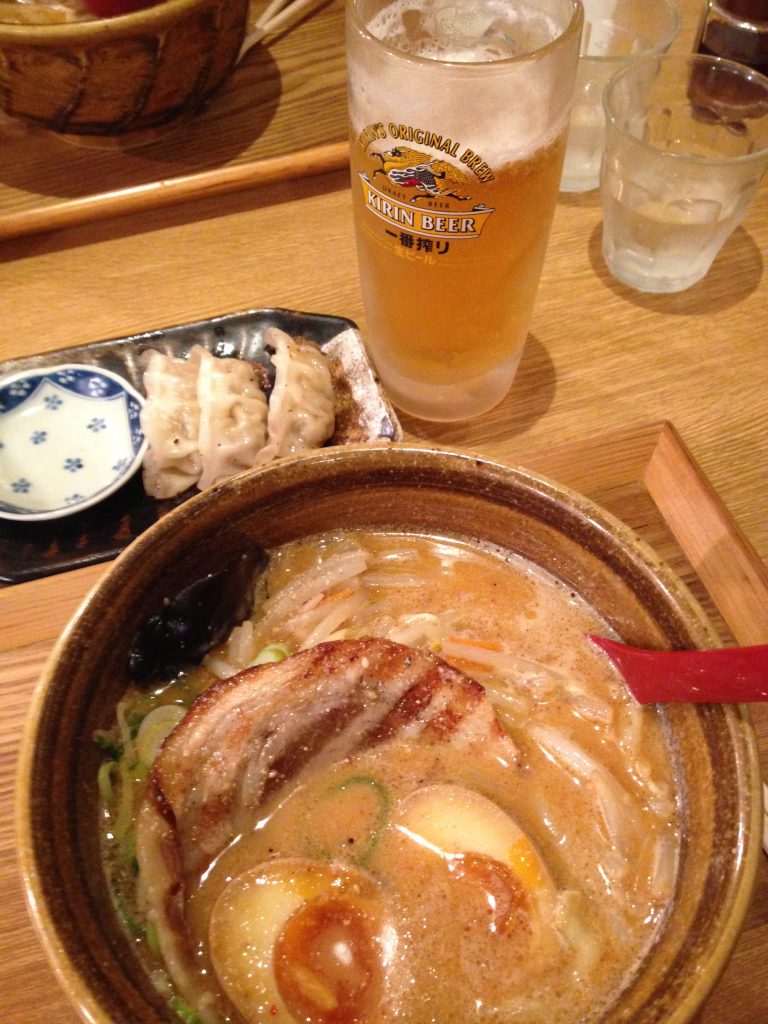 It's simple. Eat. Ramen. It's delicious, filling, there a many varieties and it's super cheap! The above ramen combo with gyoza and beer only cost 1100¥
Try Budget Sushi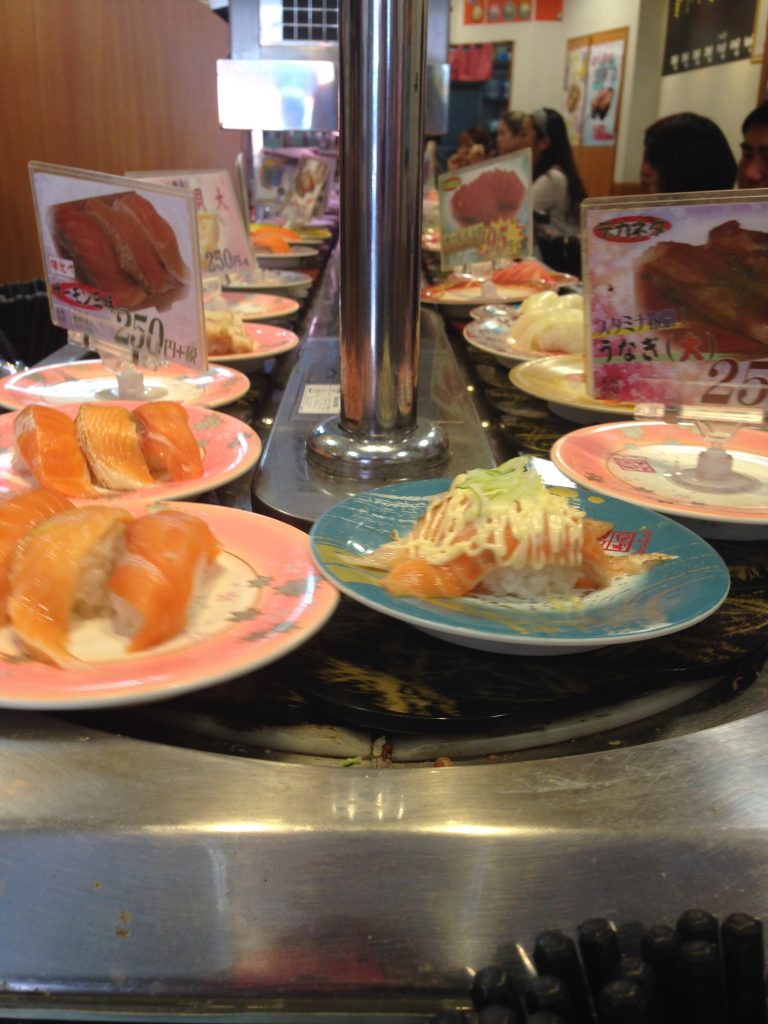 Most travellers will probably want to eat sushi during their time in Japan. Traditionally sushi is eaten for celebratory occasions and the bill is sure to reflect that. If you want to eat sushi, but not all your travel dollars or yen, be sure to check out some budget sushi options in major cities. The sushi at these cheaper places are not works of art, but they are fresh and are sure to have good variety to fill you up. My favourite budget sushi joint was in Tokyo. I ordered dishes on an iPad and shortly after, my order would come zooming down the conveyor line and stop directly in front of me. It was quite the delicious and futuristic experience.
Karaoke During the Day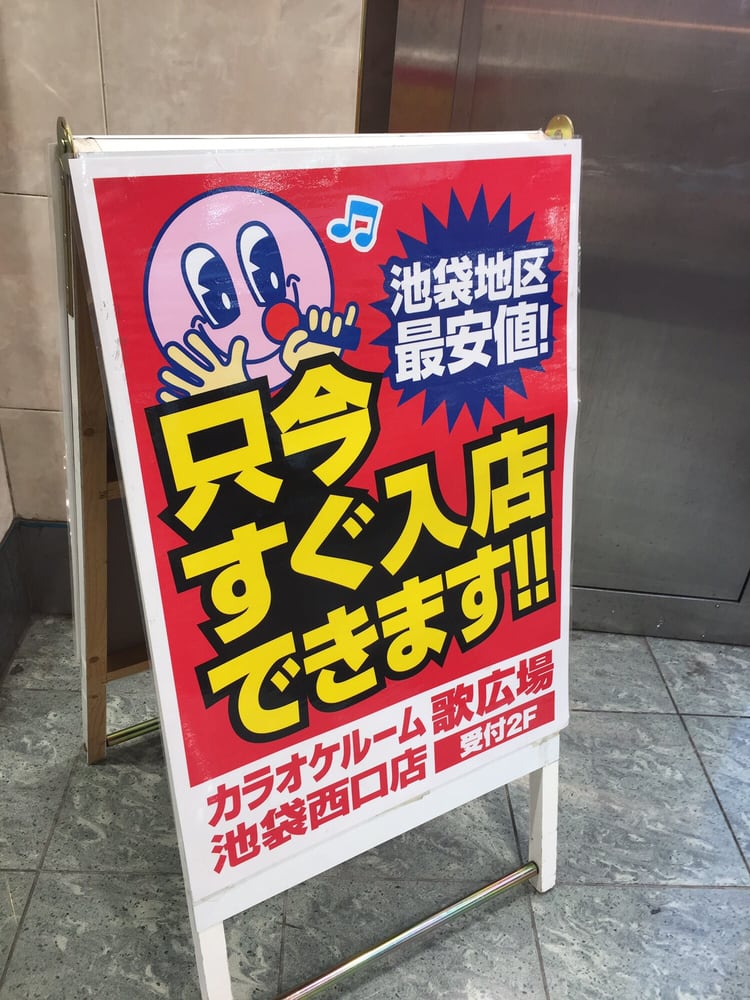 Before visiting Japan, I had assumed Karaoke in a group setting such as a bar would be very popular. This is what I have been accustomed to in Canada. However, this is not the case. In fact, in Tokyo the only bar I was able to find that offered Karaoke in a bar type setting was at an English pub and the cover charge was outrageous!
Don't fret because there are several karaoke high-rises that offer private rooms for low, low prices during the day. Drinks and food are served directly to your private room so you can sing the day away! Sadly, Matt and I waited until our last few days in Japan before giving the Karaoke rooms a try. Although it was only the two of us, it was so much fun. We went back everyday until our departure. That is a fact! Bring friends or go on your own, the prices can't be beat. My personal favourite Karaoke joint was Utahiroba (the one with the big smiling face) for its quality of sounds and variety of English songs.
For more info on Karaoke in Japan, the best spots and prices click here.
Enjoy Cheap Lunch Specials
Targeted at business men and women these deals normally can be found in business districts during the weekdays. The value is outstanding as we found many restaurants that offered great meals in the 650¥-1100¥ range.
It doesn't get much better than this.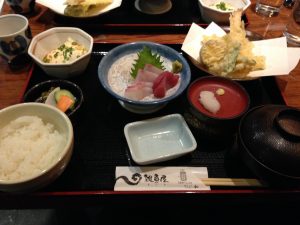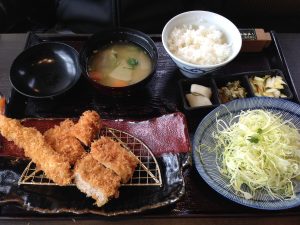 You see, Japan does not have to be expensive! It certainly can be if you want to splurge, but it's definitely not necessary. Hopefully with all the extra money you have saved by following these tips you can treat yourself to the many quirky, but expensive cafes, an upscale sushi experience, a theme park (DisneySea is awesome!) or an Omakase menu – where the chef serves a multi-course meal of their choosing.
Happy Travels,
Heather