Our Top 5 Pubs to Visit in Ireland
I thought it would be simple enough to make a top-10 pub list, due to the numerous pubs Matt and I have visited while travelling throughout Ireland.
I was wrong.
This list is about quality not quantity. Yes, there are hundreds of great pubs in Ireland, many which we have sampled, but the following pubs were the ones we most enjoyed.
5. Garavan's Bar, Galway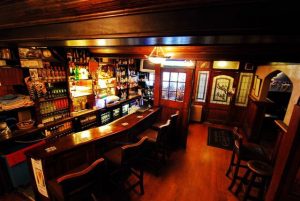 The beautiful, artsy, harbour town of Galway has the crowds of a big city but still manages to have the delights of a smaller town. The shore-lined houses can be recognized from television series, movies, travel articles and more. The downtown area is small, yet packed with shops, street performers, restaurants and pubs. There's never a dull moment here.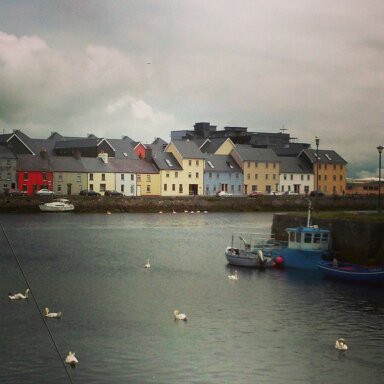 One night, Matt and I found ourselves packed like sardines in one of the busiest pubs on Galway's main street. Needless to say, after fighting for elbow and leg room with a group of rowdy boys next to us, we did not stay long. Thankfully, this is how we found Garavans pub, familiar to the locals. It was easy to lose track of time as we sipped our stouts and savoured whiskey late into the night. As time went on, the locals started an impromptu trad session and we were lucky enough to experience a good old-fashioned lock-in. What a perfect way to end the night!
4. J. W. Sweetman, Dublin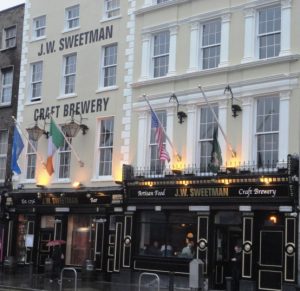 Dublin is home to Guinness and the original Jameson distillery. It's Ireland's capital for a reason. Here you can find just about anything, with no shortage of watering holes.
J.W. Sweetman is Dublin's only pub with its own microbrewery. It might not be the most traditional Irish pub, but you can certainly order a pint of Guinness. If you dare to venture from Ireland's most well-known stout and sample one of the ever-changing craft beers, you won't regret it.
With every visit Matt and I always sample a new brew. On our most recent visit we tried a delicious ale and a rich porter. With four floors, there is almost always a table waiting, unless of course it is Paddy's Day. That said, the comforts of a smaller pub can still be enjoyed in the various nooks and crannies of the bar.
3. Dick Mack's, Dingle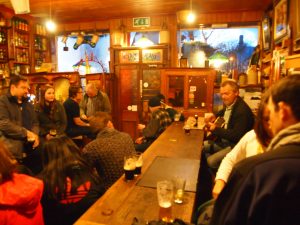 Dingle is a lively fishing village with some of the greatest fish and chips there is to be had. Aside from its seafood, it has many pubs, some even doubling as shops. You'll know what I mean upon visiting Foxy John's – one half serves cold local lager, Crean's, while the other half operates as a hardware and bicycle shop.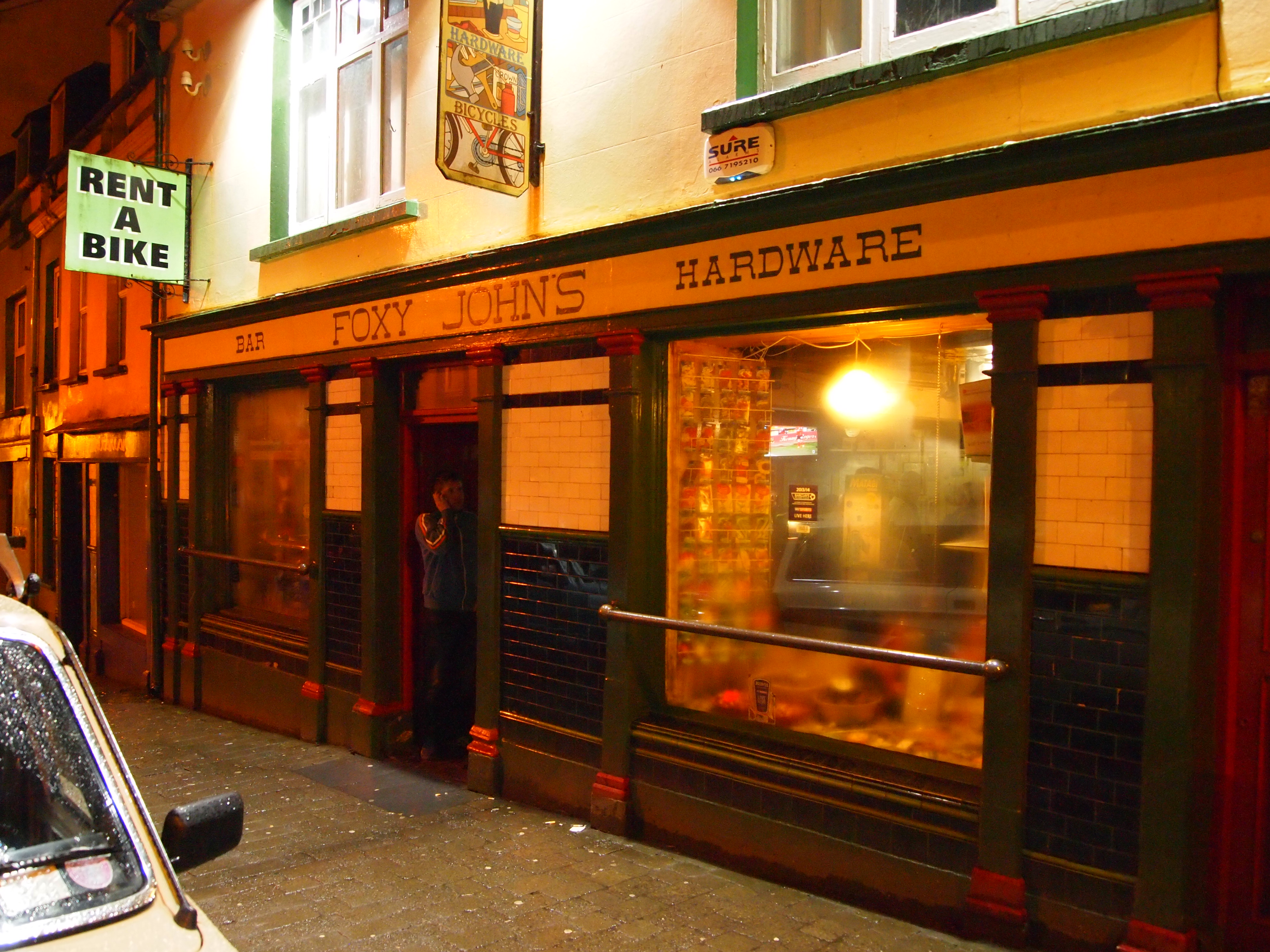 Across the road you'll find J. Currans which doubles as a pub and clothing shop, with miscellaneous garments strewn about. The clothing aspect is more of a novelty these days, but provides a glimpse of what used to be.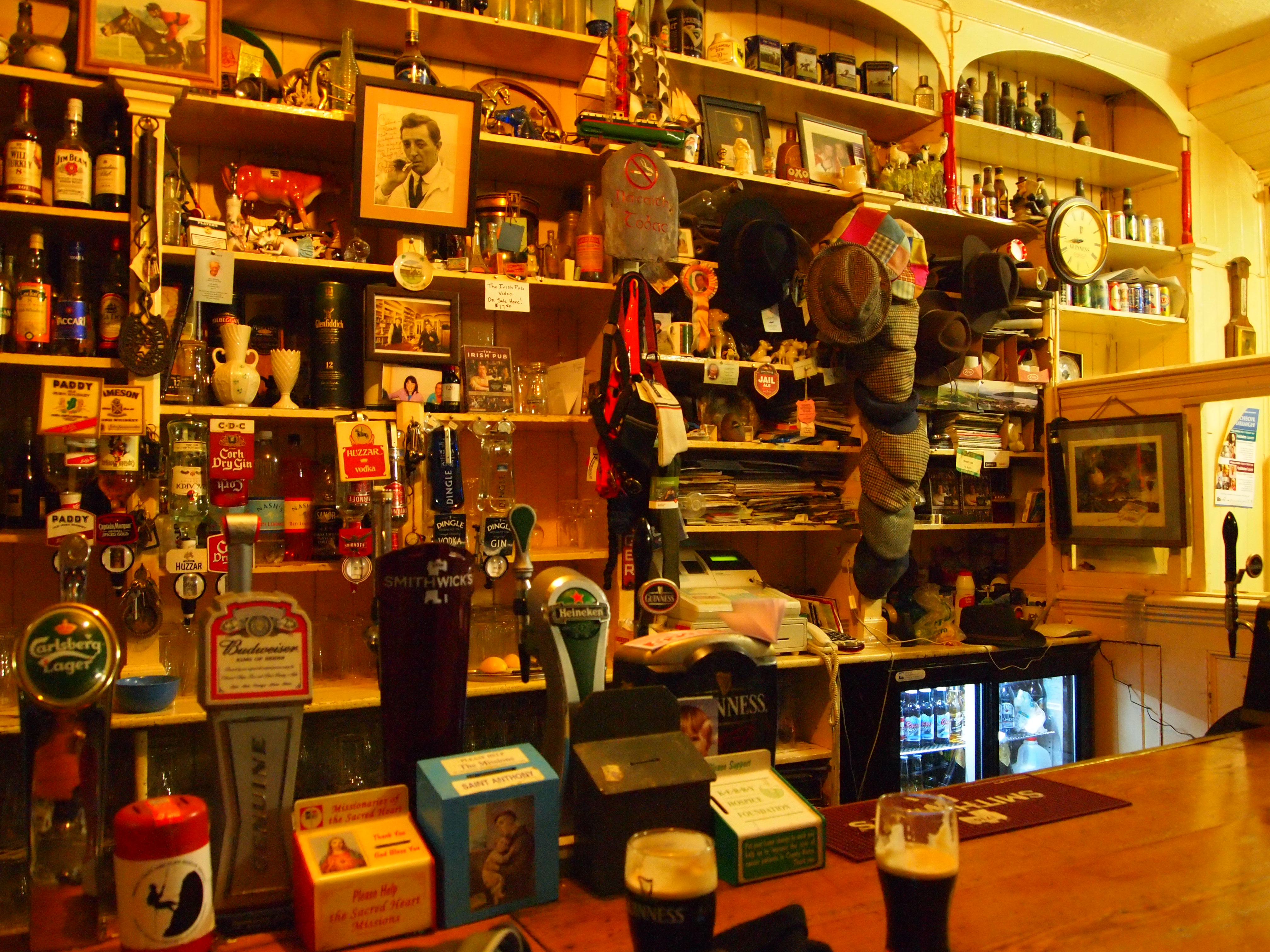 As you can probably tell, it was hard to pick the best pub in Dingle. It's filled with many jewels, but if I had to pick one pub amongst the many Matt and I visited on our pub crawl, it would be the old leather shop, Dick Mack's pub.
Dick Mack's manages to keep its authentic style while maintaining a lively atmosphere. Locals, tourists and even celebrities come to sip a pint of the good stuff at Dingle's most popular pub. They even have a walk of fame outside their swinging doors. Matt and I sampled the local lager as we sat on narrow wooden stools while looking at the many interesting plaques, posters and shoes that decorated the walls.
2. McGann's Irish Pub, Doolin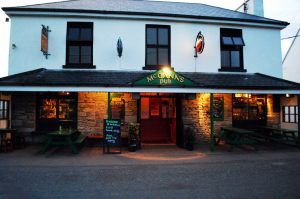 The town of Doolin is a small coastal town located near the Cliffs of Moher. What Doolin lacks in size it certainly makes up for it with its ever-growing Irish music scene, which attracts locals and tourists alike.
On our visit we arrived early enough to squeeze into a corner table. The chatter started low, but after dinner, became livelier as more and more patrons gathered into the pub. Once the music started it was clear we had made a good decision making McGann's a pit stop on our three-day road trip in and around Doolin. That night we were lucky enough to hear a local favourite: Blackie O'Connell, who plays the Uilleann pipes (a unique Irish instrument similar to the bagpipe).
1. De Barra's, Clonakilty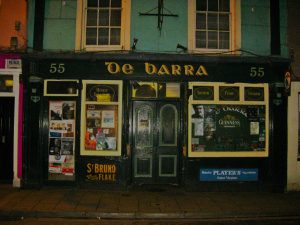 Clonakilty is a small, unique town where Matt and I have spent the most of our time while travelling through Ireland. The town is famous for its black pudding – not the sweet kind of pudding, I must add. Clonakilty has shed light on the importance of fair trade products throughout Ireland. It's a town we keep going back to, for its small yet fabulous weekly market; the chatty, outgoing locals; the colourful, winding streets, and of course its fabulous music scene.
In 1972 Noel Redding (The Jimi Hendrix Experience) retired to Clonakilty. He helped De Barra's become a reputable pub for showcasing world-class musical talents, which is still true today.
Due to popularity the draught taps are always flowing, and they serve my particular favourite: Murphy's Irish stout. If you're seeking a fresh pint, this is the place for you!  Don't be fooled by its quaint front bar, there is a hidden back bar where most of the musical acts play.
Matt and I became no stranger to De Barra's after wandering in on our first night to a cozy room occupied with locals, au pairs and heat from the fire. A hush came over the pub as sounds of the best 'trad' session we have ever come to hear filled the room. Every Monday night you too can treat your ears to the wondrous sounds of Irish history.
It's definitely 'good craic'!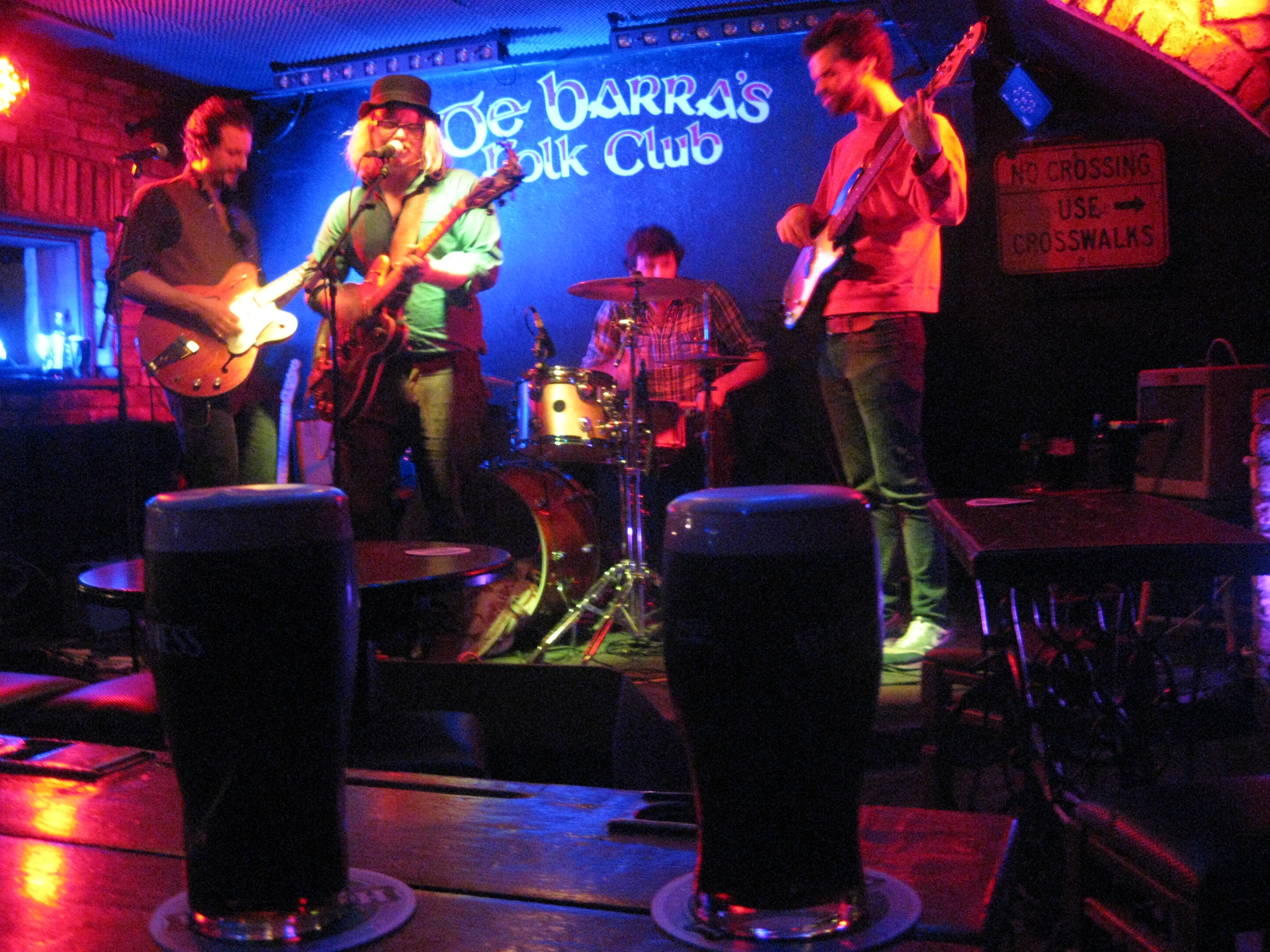 Honorable mentions:
Tynan's Bridge House Bar – Killkenny, Co. Killkenny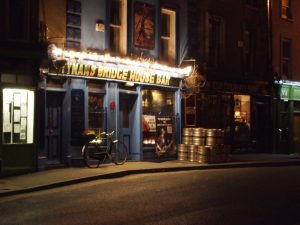 Killkenny is home to Smithwicks brewery, which produces delicious Irish red ale. Upon our visit to this medieval town, Matt and I stumbled upon an authentic, gem of a pub – Tynans Bridge House Bar. We met many locals and tourists while enjoying some powerful blues sung by The Rob Strong Band. The owner was a very pleasant man who proudly spoke the words "happy days" in almost every sentence.
Tynan's would have made the list, if it weren't for the unfortunate news that it has suddenly closed! Hopefully it will re-open soon…
Oslo Bar, Galway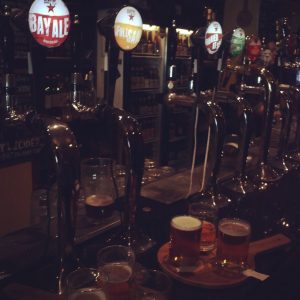 Oslo bar is home to the Galway Bay brewery, which crafts some wonderful beers that will surely get your mouth to water. It's a fun and delicious way to change things up from the classics like Guinness, Beamish, Murphy's and Smithwicks. My personal favourite was their milk chocolate stout: Buried at Sea.
Galway Bay brewery owns a number of bars around Ireland, with the majority in Dublin, but it originated in Galway, hence the name. Oslo, did not make our list simply due to its bar-like atmosphere rather than feeling like a traditional pub. That said, upon a trip to Ireland, you should most definitely give at least one of their beers a try.
Hopefully you enjoy these pubs as much as we did!
Cheers,
Heather