Trip to Machu Picchu – Family Style
A few years back, my dad was flipping through a travel book that featured some of the world's most amazing places. I became intrigued and sat down next to him. As the pages flipped I watched destination after destination pass by, feeling either a sense of happiness and accomplishment as I recognized familiar destinations that I had visited or guilt and envy after seeing those I had yet to explore. As an avid traveller it can be a struggle pinpointing where to visit next – when you literally want to travel everywhere!
Luckily for me, my father made it easy. He flipped through the pages, sometimes reading a small description about the photo, but about halfway through the giant-sized coffee-table book he stopped at a particular image. I heard him exhale and his eyes, I swear, teared up. Without losing his gaze, he pointed to the enlarged photo and said 'this is one place I want to visit before I die'.
The photo was of the iconic Machu Picchu. One of the New 7 Wonders of the World.
At the time of this special moment, my father was 67 years of age, not retired, with some minor health issues. If I were to describe my father I would compare him to a teddy bear. He's big and tall but also has a big heart. I have seen some of these 'soft spots' before, where he might tear up, like when a Celine Dion song plays on the radio, or when he reads a sad yet uplifting story in the newspaper. However, for some reason, this request really stuck with me.
I knew a trip to South America with my family would be a difficult stretch. They wouldn't travel there willy nilly and I couldn't think of how I could convince them to take the trip. Miraculously, just over a year later, my mother announced she had a volunteer commitment that was taking place in Brazil. As my parents are not the most travel savvy, I was happy that my mother asked Matt and I if we would accompany them. Like, no duh, of course! This was huge. None of us had been to South America before but were so eager to visit. I was put in charge of the planning process and started mapping out an itinerary – one that included a stop in Peru.
Fast forward a few months later, we boarded our flight to Peru. We finally were going to be visiting Machu Picchu! Our time was limited, but enough.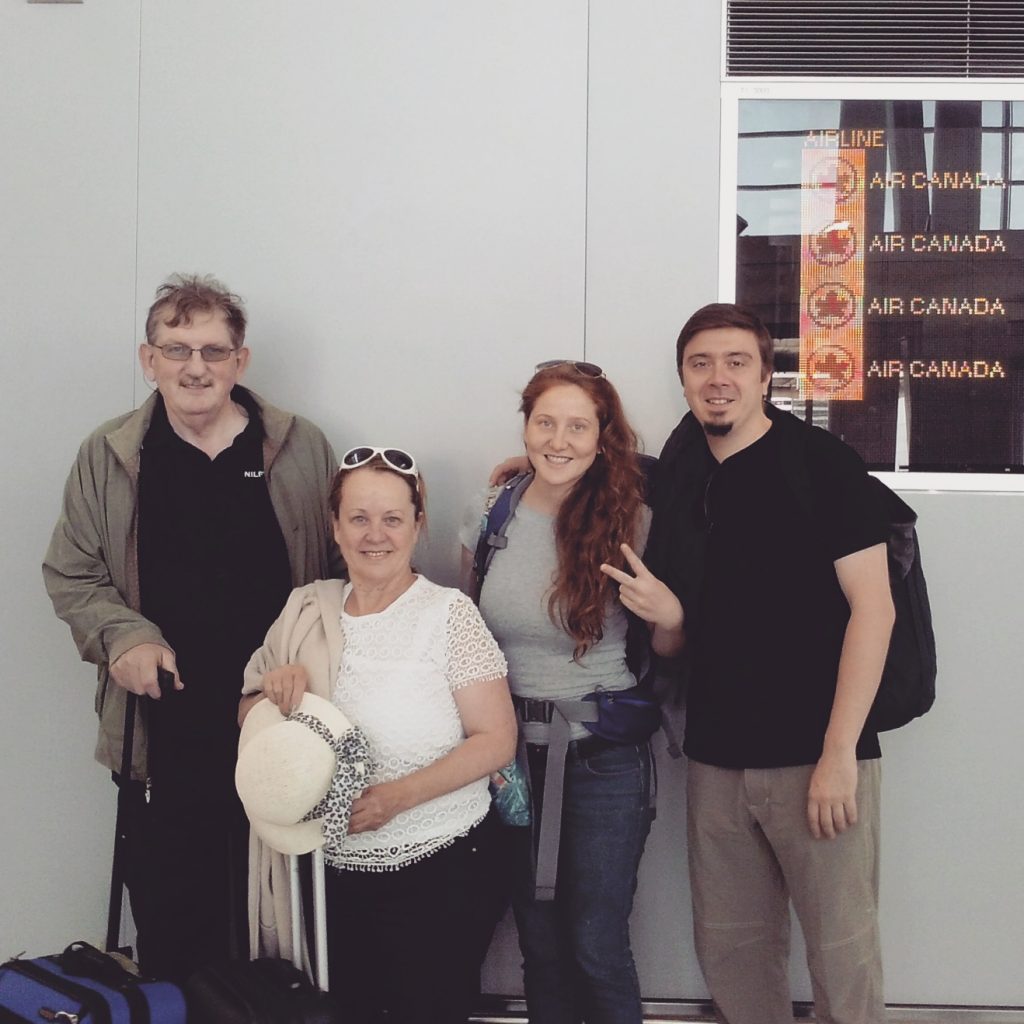 When we arrived in Cusco, the dry heat and stale air seemed to punch us in the face. I can't quite describe it, but the atmosphere was palpable. We met with our driver, Ethicar, who drove us to the town of Ollantaytambo, situated in the Sacred Valley. The village was small and touristed but was surrounded by beauty. There were many historical buildings, sites and ruins in and nearby the town. We chose to stay for two nights as it is in the valley and easier to acclimatize to the change in altitude. Luckily, none of us experienced altitude sickness. Maybe that had something to do with our location or it was due to all the coca tea we were drinking. The herbal tea is made from the leaves of the coca plant and is supposed to help relieve symptoms of altitude sickness. It also helps with fatigue. The leaves can also be chewed for the same effect, but oh man, dry crunchy leaves are pretty gross when they get stuck in your teeth.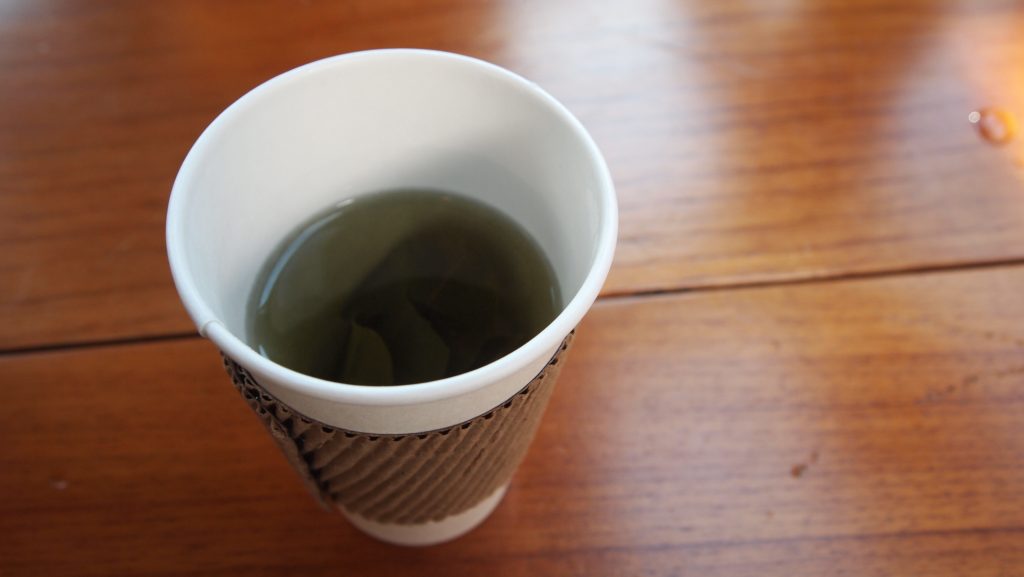 The next day we toured the Sacred Valley making stops along the way for some great views. It was quite scary as we ascended edges of cliffs, in fact, at one point my mother let out a chilling scream as she covered her eyes. I laughed, maybe in part to make myself feel better about the fact that our van was inches away from a steep drop. Eventually, with the van in park we exited (kissed the ground) and walked over to a lookout point. The views were spectacular. We were surrounded by mountains and sky. Below us was a lush valley with many farms and a river flowing through it.
We continued with our tour and visited some archeological sites such as Maras Moray – well not really. We did go to the site, however, the area is roped off and the entry fee is steep (just like the cliff's edge) and must be paid in cash. Unfortunately, we only had USD (which are widely accepted in Peru) and a credit card, neither of which were accepted. Therefore, we weren't allowed to even take a glance but with instruction from our driver Ethicar, I stepped over the low hanging rope and snuck a peak. As I peered into the opening of the archeological site and my gaze got sucked down to the bottom tier, I was instantly filled with a calming almost cooling energy. It was pretty unreal. The air in that space was so fresh and cool.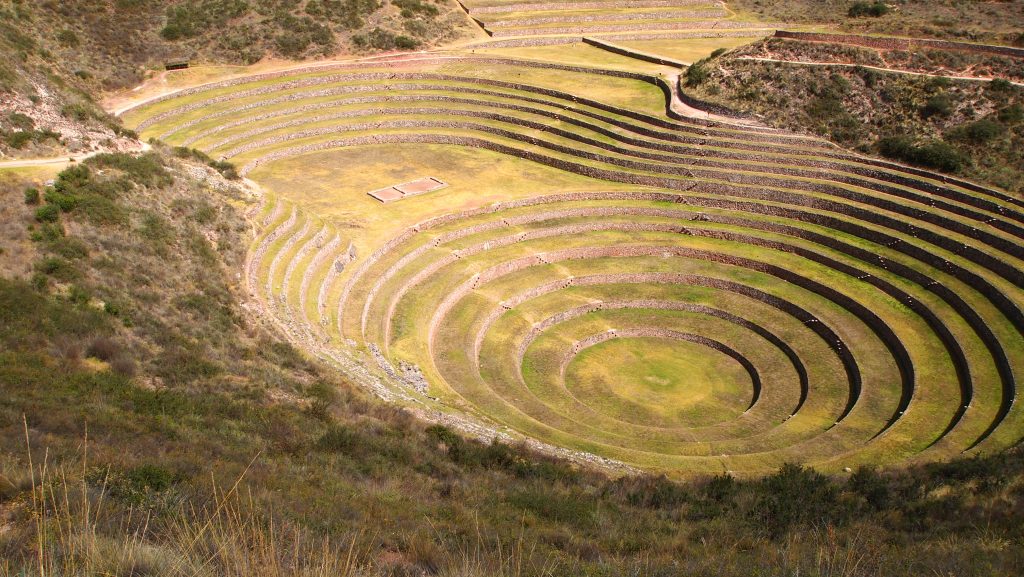 My experience was short-lived as a guard blew his whistle and began walking towards us. We rushed back to the van and were off! This freed up some time and we were able to visit some other attractions. We proceeded to the local Chinchero market as well to a textile farm where we learned about natural dyes and wools, which was super interesting. I would highly recommend hiring a driver to tour the Sacred Valley. This was a great way to explore more of the region and discover more about Peruvian culture and traditions.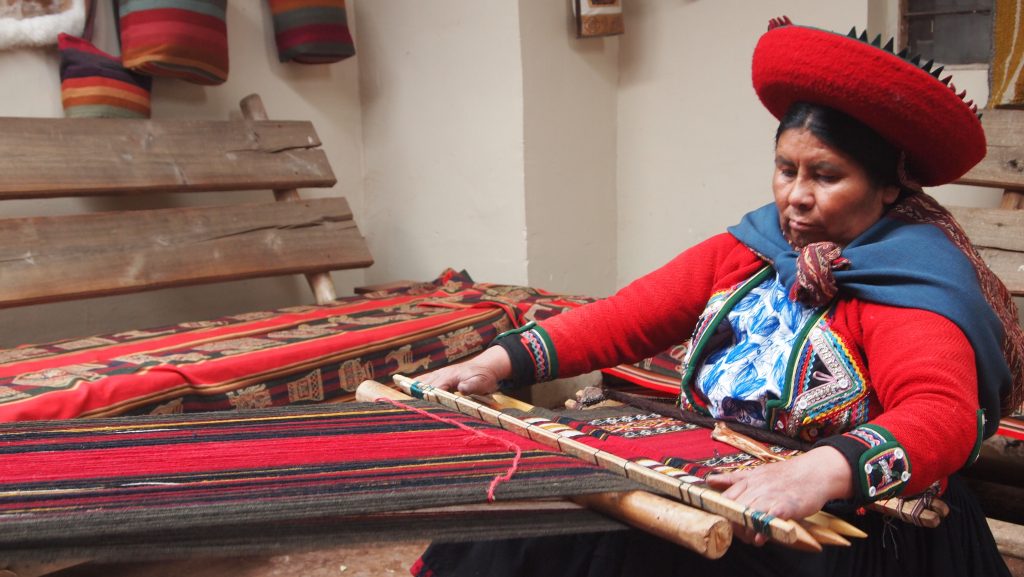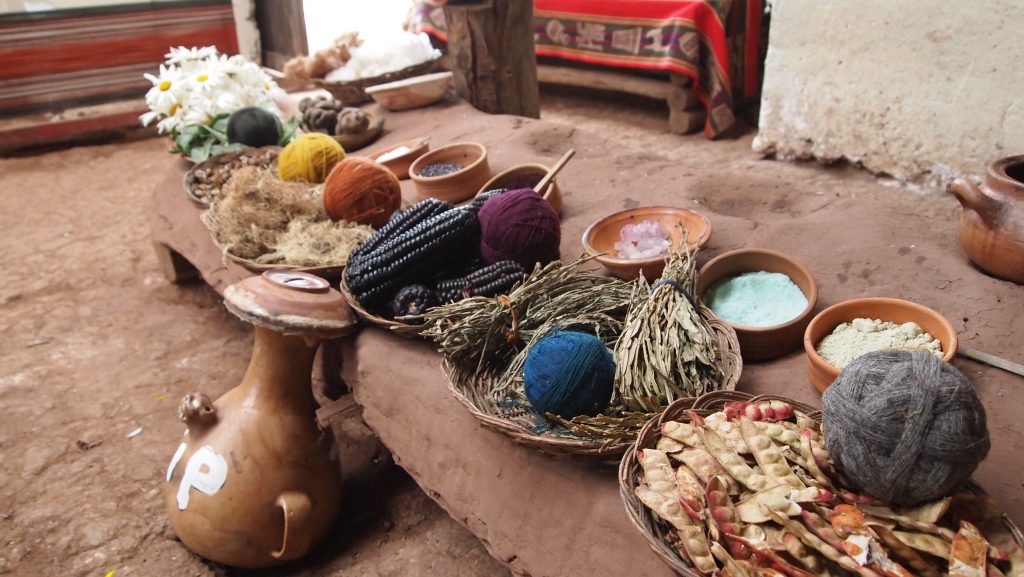 The next day we were up bright and early as we made our way by tuk-tuk (our family's first ever tuk-tuk ride) to the train station. From there we boarded our train heading to Aguas Calientes, now thanks to its popularity with many Machu Picchu tours and visitors the town is now known as Machupicchu.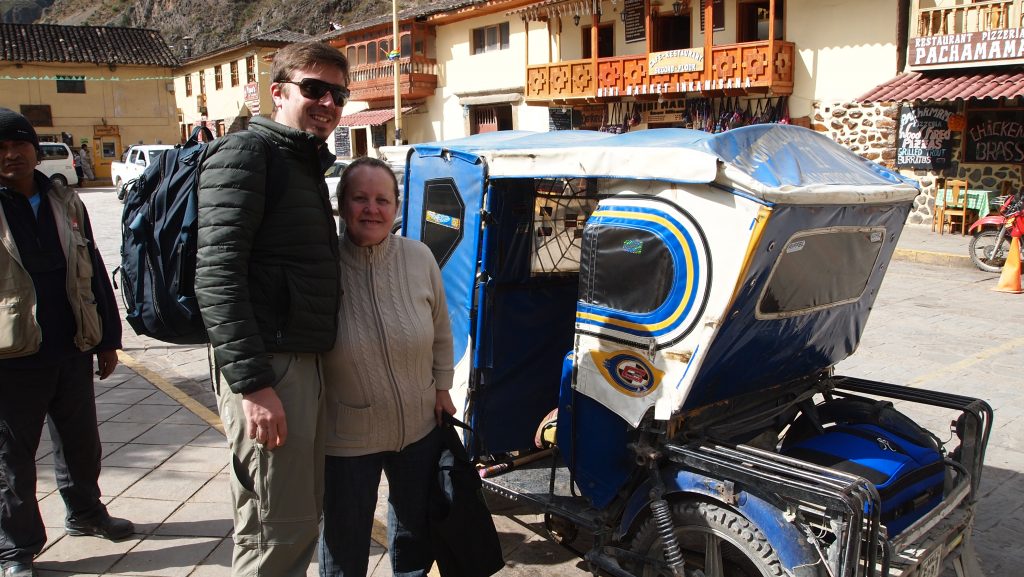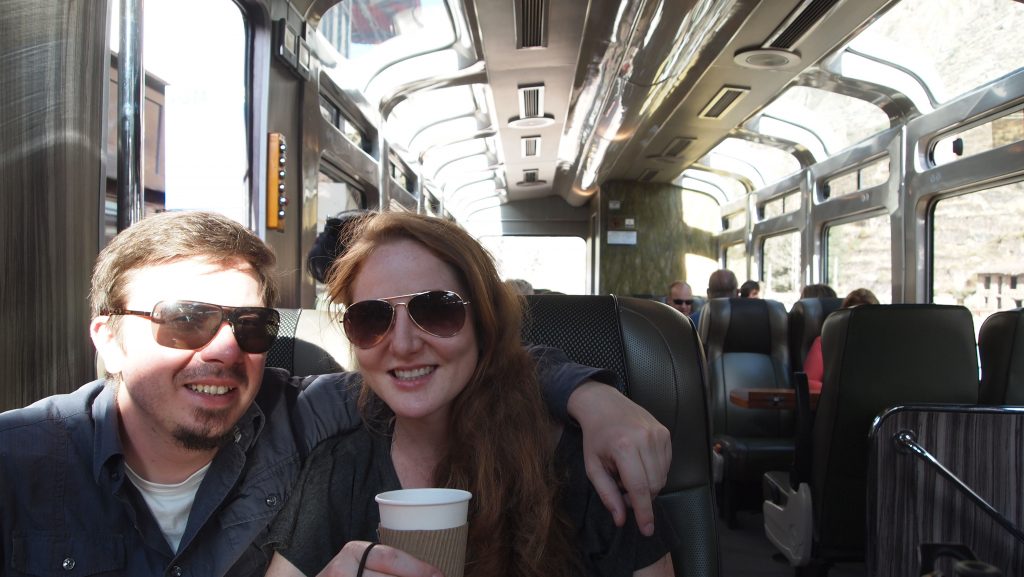 We arrived and pushed through the vast tourist market as we made out way to our guesthouse. Before our trip I recall reading many online threads about what a 'dump' Aguas Calientes was. To be honest, I didn't feel this way. Yes the town is touristed and does have its food and drink traps but I would not call it a dump. It's worth staying a night before you travel to Machu Picchu, that's for sure. Some take the train in and out in the same day – that must be so exhausting!
We stayed for one night as we relaxed and enjoyed ourselves before the eventful and exciting day that was yet to come.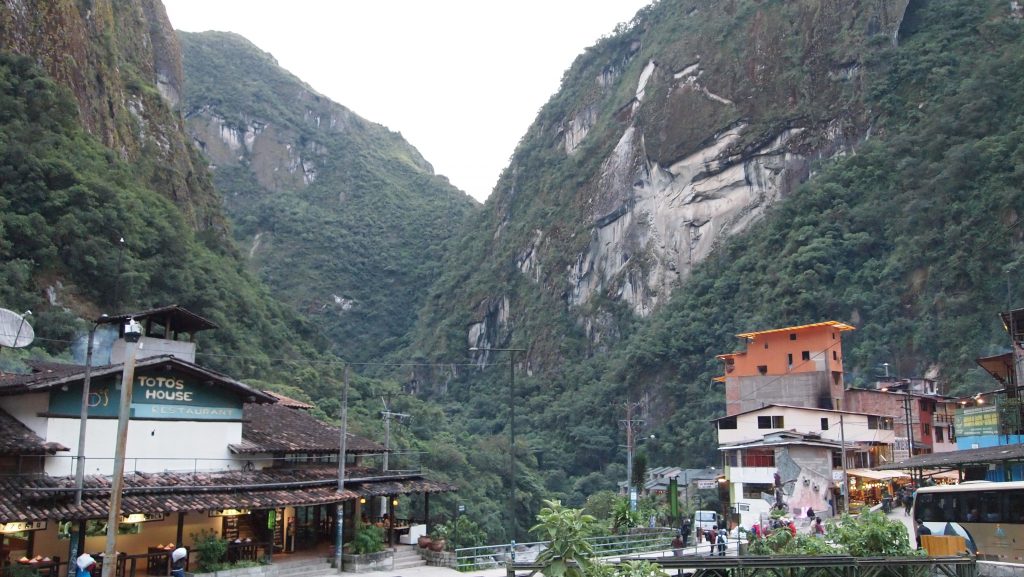 6am.
We all woke early to begin the day. We had a quick breakfast – hard-boiled eggs, toast and some sludgy coffee. After breakfast we boarded a bus that took us to the gates of Machu Picchu. It is possible to hike the Inca trail to Machu Picchu or hike from the town, but with my parents in their 60's that wasn't about to happen. My dad was doing a good job of playing it cool, I sensed he was in disbelief. My mom was visibly excited as I don't think she ever imagined herself visiting Machu Picchu due to some mobility issues she has. Nevertheless, she's a trooper and persevered anyway.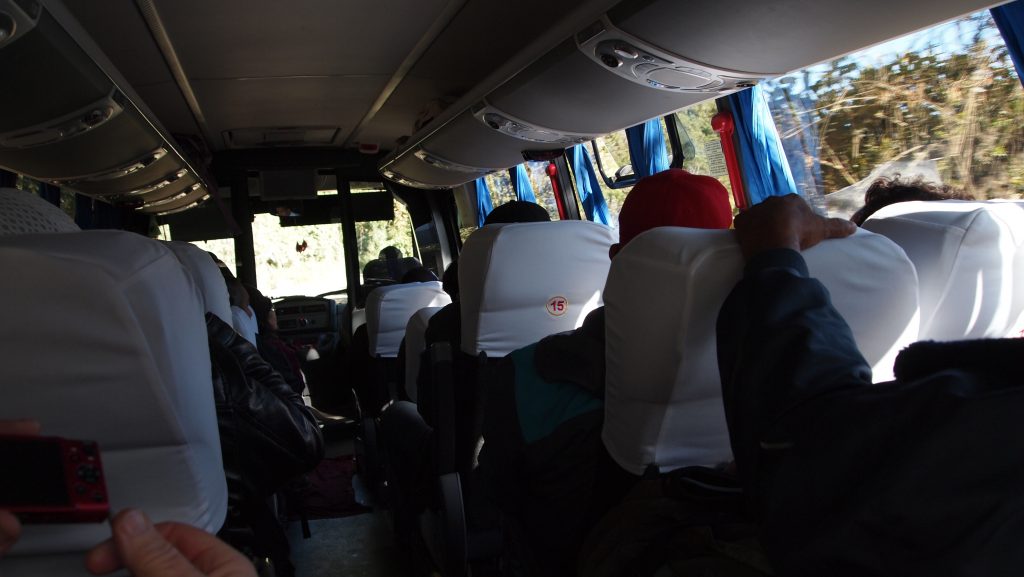 When the bus arrived at the front gate, we were off…to the bathrooms. You know, a quick pit-stop before the 'I want to visit this place before I die' adventure begins.
Once we took care of business we were actually off this time, heading straight for the entrance.
As we entered, we traveled along a trail for a few minutes before we came to a fork in the path. One lead to higher ground and the other straight to a lookout. We went straight, as it was a more accessible route for my mother. We saw the lush green grass, the ancient stone ruins and tall mountains as they peaked through the clouds. This was definitely a view of Machu Picchu, but not the view from my father's book. We found a comfortable seated area for my mother and at her request, the three of us continued on, back to the fork in the path and proceeded upwards.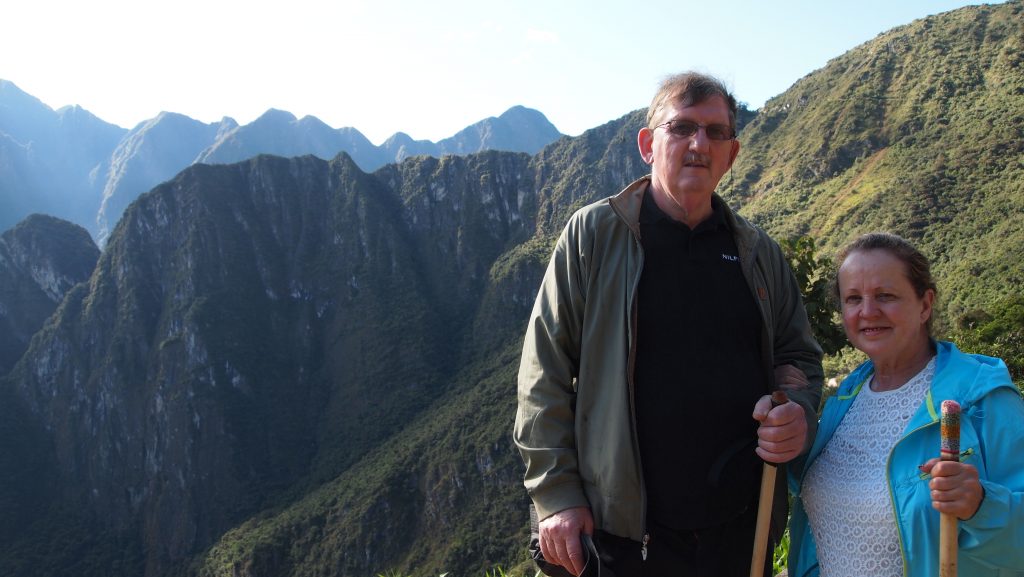 There are quite a few steps to reach the lookout point. I could feel it and I know my dad could as well. His huffing a puffing was mildly worrying at some points but the look of determination was more prominent. We took our time, eventually reaching a clearing. We continued through and the entire area opened up. This was it – THE view my father had one and a half years earlier confessed he wanted to see in his lifetime. We were all speechless. The energy was high and the sense of joy and pride on my father's face is still, to this day, engrained in my mind.  We took our sweet time enjoying the views. After we snapped the classic tourist shots we reconvened with my mother and continued to explore the ancient Inca ruins.
We did it!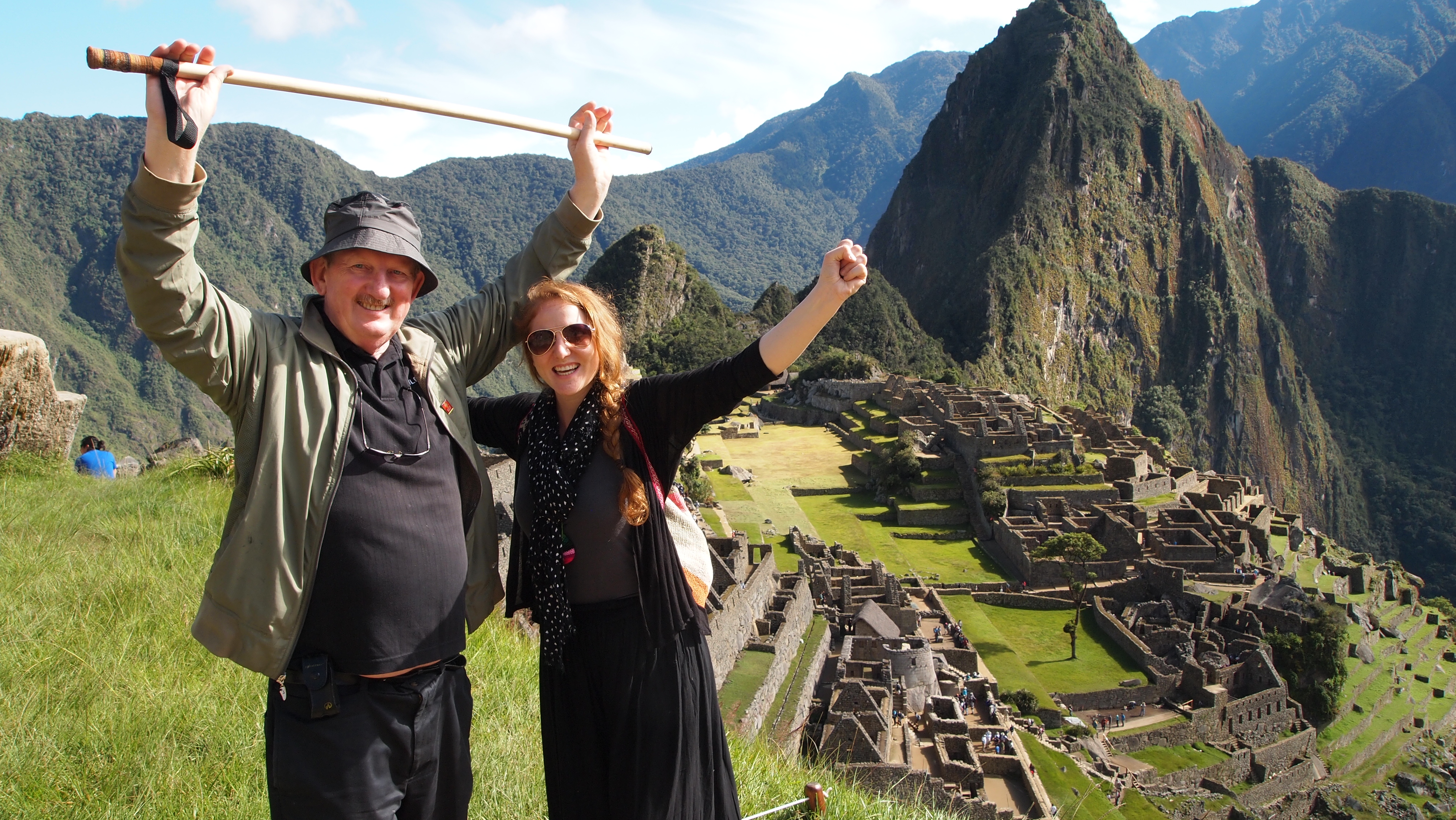 Happy travels,
Heather